Presentation
Pau-Pyrénées International Airport handled 634,035 passengers in 2015.
As a result of the decentralization law, the Pau-Pyrénées Airport is now the property of Pau-Pyrénées Airport Association that includes Aquitaine region, Pyrénées-Atlantiques department, Pau-Pyrénées metropolitan area, and 16 other communities.
The airport is managed by Air'Py company composed by the Pau Béarn Chamber of Commerce and Industry (51%), Egis Airport Operation (24.5%) and Transdev (24.5%).
Pau Pyrénées Airport, located in southwestern France's third largest economic hub and the heart of Aquitaine, is a gateway to the entire region, including southern Landes, Gers, Bigorre, and of course Béarn.
Along with Bordeaux and Toulouse, Pau Airport is one of three airports in southwestern France that is equipped with an all-weather landing system.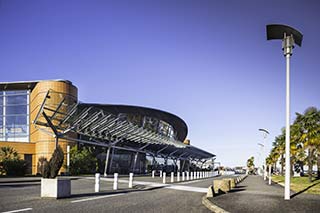 It is centrally located in a business area with both civil (manufacturing and service) and military activities.
The airpark contains 500 businesses and 4,000 jobs near the airport, including aerospace companies (Exameca, MAP, CGTM, USINECA, and SEDEMECA), logistics companies (SDV Logistique, Dachser France, Partn Air, Henry Johnson Co Ltd), electronics companies (Aquitaine Electronique), and services (La Poste, regional logistics centre, Météo France centre, Customs Services 64, Paf) in the business area.
The runway also accommodates military traffic from the nearby School of Airborne Troops.
There is a regiment of combat helicopters, the 5th RHC, based to the south of the airport, along with the 4th Special Forces Helicopter Regiment (4th RHFS).
This adds up to 80 Gazelle, Puma, Cougar, and Tiger military helicopters with its maintenance centre.
The airport provides 10 daily flights to Paris (7 flights to Paris Orly and 3 flights to Paris CDG every day) with Air France, 3 daily flights to Lyon with Hop ! 2 daily flights to Marseilles with TwinJet, and a weekly flight to Bastia/Ajaccio from june 25 to september 3 in 2016.
A once weekly route to Marrakech with Air Arabia is scheduled to begin on April 1st 2016.
Pau Airport attracts business customers (70% of passenger traffic) affiliated with major companies in the region (Total, Safran, Euralis, Schlumberger, Lindt, Alstom, EADS, Toray, Socata, etc.), but it also handles customers travelling for leisure.
Located just 40 minutes from Lourdes, between mountains and sea, 1 hour from Pyrénées ski resorts, and 1 hour from the beaches of Basque Country and Landes, the region around the airport offers a wealth of activities, sporting events, celebrations, natural beauty, and cultural richness, with rich historical and cultural significance, and of course a renowned cuisine.